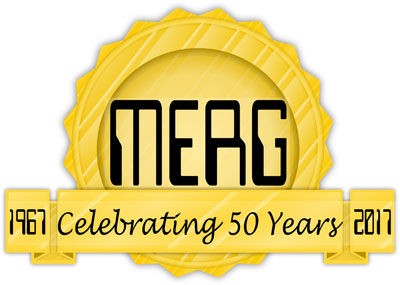 2017 - MERG is celebrating 50 years of innovation!
MERG is celebrating its 50th anniversary in 2017 – we have come a long way from the early days in 1967 when a small bunch of electronics enthusiasts got together to swap notes and ideas about model railway control and add-on widgets to enliven layouts.
In those days train power was all DC with the likes of Hammant and Morgan, Hornby Dublo and Triang regarded as household names in the model train market. No-one had heard of 'digital' but MERG caught wind of it soon enough and began the decades of experimentation, design and kit sales that have got us where we are today.
DC is not forgotten but the big news is comprehensive layout control including points, signals, train location and anything else that moves. Whereas much of the technology supporting this could be regarded as incomprehensible to many of us, the truth is that it is not. MERG tries to engage, educate and satisfy its members that the 21st Century is the era of the technocrat where electronics and computing is as doable as tying a shoelace. If you have joined then 'Welcome' and if you are thinking of joining then get your pen out.
We have a lot to tell you about this hobby of ours and how to get it working just how you want it.
We are planning lots of events and activities to celebrate this anniversary so keep visiting to find out more.