Bristol Area Group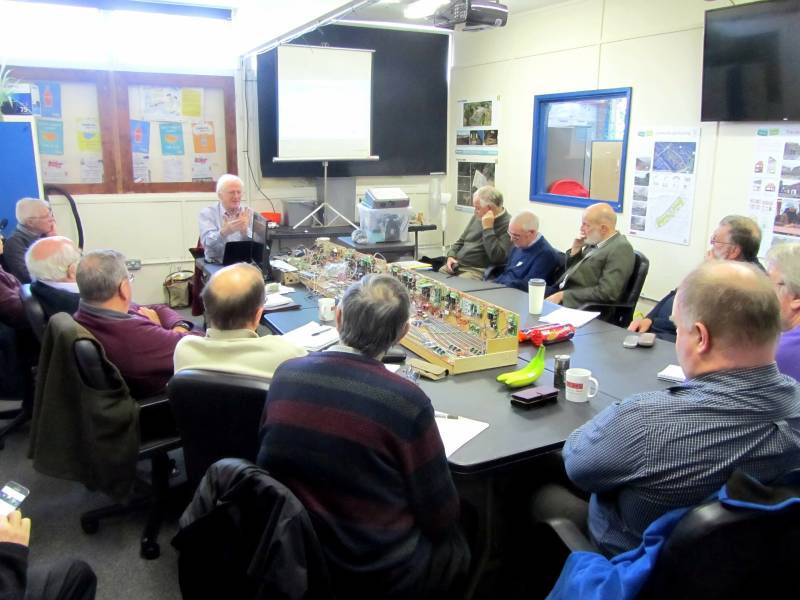 The photo shows group leader, Paul Townsend in full flight during a CBus and JMRI for Beginners course.
The group has over 100 members scattered across a wide area.
Who is the leader of the group?
How do you meet?
The group normally meets on a Wednesday or Thursday evening. In normal times, we meet at a members house, but currently we are having Zoom video calls once per month. Meetings include some or all of the following:

A presentation

A discussion about each other's projects

A session on a group project

A practical workshop.
At a recent meeting, seven of us had a visit to a local Member's large EM gauge model of Brent. Built during the last 35 years, he converted to DCC some 20 years ago and then to CBUS starting two years ago. A large part of the layout which has many panels and an interlocked lever frame is now controlled by the MERG CBUS layout control system. The main huge station panel will follow asap but he needs to remove the old DC section switch wiring first as proximity of DCC power wires to CBUS has caused havoc elsewhere on the model prior to adequate wiring separation. New members are made very welcome at our meetings.
Exhibitions
We represented MERG at the last Bristol MRX stall at Thornbury and we also had our usual help from the Cardiff Group who provide a nicely presented demo rig, now modernised with DCC and CBUS. There was a lot of interest from visitors to the exhibition and we talked ourselves hoarse for three days. One of our members lent a comprehensive demo of applications of video cameras in N gauge vehicles and with lineside views. Other exhibiton attendances this year have been lost due to exhibition cancellations. The current next public appearance is April 2021 at TrainWest in Corsham. Lets hope that happens.
Workshops
Workshops were a regular feature of our calendar and we intend to resume these as soon as we are able to do so.
Typical workshop activities include: -
Members bring their own kits to assemble with help from others in the group where required

Members bring their own built kit for where they have failed to get it working or need to share test equipment

Any electronic kit is welcome not just MERG kits

Members work on the current group projects together

Members interconnect working kits and add hardware to learn how kits can work together
Select Bristol Area Group from the drop down list and press the green button with the plus sign.
Meeting Schedule
| Date | Event | Description | Location | Link |
| --- | --- | --- | --- | --- |
Past Meeetings
Recent meetings include: -
| Date | Event | Description | Location | Link |
| --- | --- | --- | --- | --- |
---