Replace Somewhere with the name of your area group.
MERG South Hampshire Area Group
Replace photo with a area group meeting photo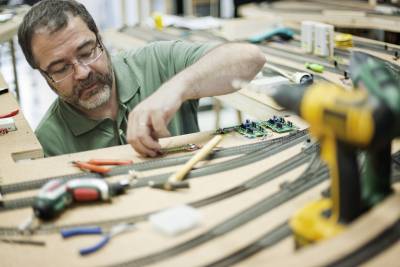 * Replace NN with the number of your area group - get from the AG admin page. Update the contact form title. *
Who are the leaders of the group?
Replace photo with the names and titles of leaders.

Chris Barker - Leader
Stuart Burgess - Deputy Leader

Would you like to join today?
Not a member? then
and sign up to this Area Group. If you are already a member
Edit Area Groups using the green pencil. Then select South Hampshire Area Group from the drop down list in Other Area Groups and press the Subscribe to Area Group button.
How do you meet?
Whilst restrictions are in place, we are using Zoom video calls.
Previously we met at the Southampton Model Railway Society (SMRS). Meeting Venue: Unit 1b, Kemps Quay, Quayside Road, Southampton, SO18 1BZ.

Evening meetings took place on the 2nd Thursday of each month.

Workshop days normally take place on the 3rd Saturday of each month, unless we are representing MERG at an exhibition.

The club room is well equipped with several work benches, an open area with a 50" screen that can be used for presentations and discussions, plus catering and toilet facilities.

It is situated on the first floor of an industrial unit. Access is by stairs but unfortunately there is no lift.

The meetings are flexible: You can build, test and fault find your electronic modules. Chris can assist you in developing your soldering skills. We can program the PICs used in MERG designs and have some basic test facilities for CBUS modules and DCC loco decoders and accessories. Presentations are welcome, and advice and guidance always available.

We are assisting in rebuilding one of the Southampton MRS exhibition layouts to enhance its operational capabilities and possibly add some animations.

The layout is being controlled by MERG CBUS and DCC modules. It will be controlled using route selection from a single control panel and one or two CANCABs will be used for loco control.
And the Next Meeting?
* Replace NN with the number of your area group - get from the AG admin page. Update the contact form title. *
| Date | Event | Description | Location | Link |
| --- | --- | --- | --- | --- |
Local Links
Link to local model railway sites.
public/shants.txt · Last modified: 2020/06/30 15:11 by uppermill