Pocket Money Projects, PMPs and Kits, PMKs
Revised 4 February 2023
Introduction MERG now has a selection of more than 25 PMPs, available from the kitlocker, designed to serve as a learning excercise for novices to electronics while providing something useful to use on the layout. These are really low cost and allow novices to practice soldering and kit assembly very cheaply while obtaining useful items. The PMPs range from a logic probe at £0.32 to a set of Hall effect (Magnetic) sensors at £3.41. The range includes a variety of train detectors, servo drivers, speed controllers, shuttle controllers, etc. The majority of these are designed to be assembled on small pieces of stripboard and the downloadable instructions cover that process. A few are available with bespoke circuit boards and are listed as Pocket Money Kits, PMKs. In addition members have created bespoke boards for some of the others and may make them available or publish the design outside of the kitlocker.
PMK Listing
PMK1 - Track tester
PMK4 - Simple shuttle controller
PMK4a - Shuttle add on to operate a turnout
PMK7 - DCC train detector, diode drop
PMK10 - Speed controller, variable voltage
PMK15 - Train auto stop
PMK18 - EzyPoints, servo driver
PMK22 - Laser train detector
PMP Listing
PMP2 - LDR train detector
PMP3 - Servo tester
PMP5 - Logic probe
PMP6 - 12 Volt DC supply
PMP8 - Multi purpose flasher
PMP9 - Traffic light controller, 4 way
PMP10 - Speed controller, variable voltage
PMP11 - LED dimmer
PMP12 - Random lighting controller
PMP13 - Lighthouse simulator
PMP14 - DCC decoder test rig
PMP16 - DCC turnout position sensor
PMP17 - Automatic signal controller
PMP19 - Automatic coach lighting
PMP20 - Versatile timer
PMP21 - Dual LED flasher, eg level crossing lights
PMP23 - DCC reverse loop controller
PMP24 - Arc flash generator
PMP25 - Steam sound emulator
PMP26 - Event sequencer
PMP27 - Button operation add on for Servo4 or Ezypoints kits
PMP99 - Hall effect sensor pack
Example Illustrations
Simple Track Tester, Kit PMK1.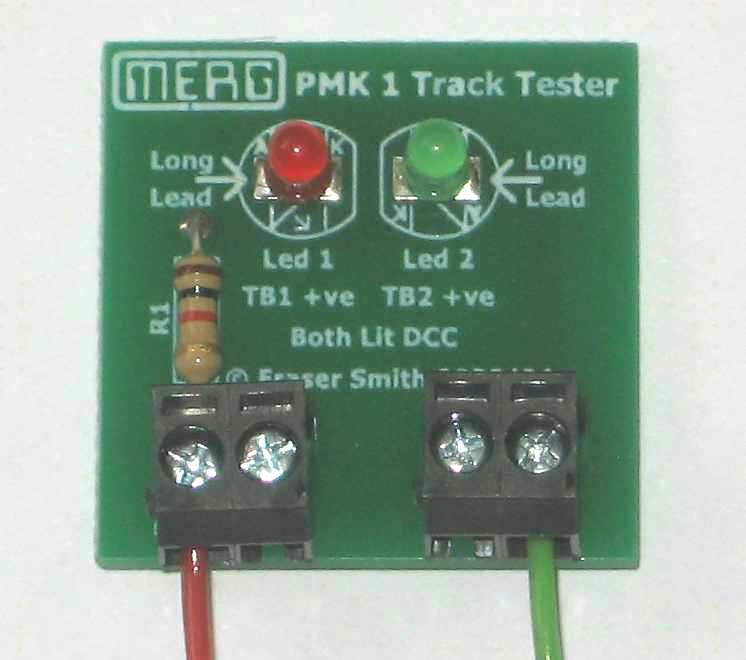 This is simple module that contains red and green LEDs to show that voltage is present on the track and its polarity. Used on DCC then both LEDs will light.
Speed Controller, Kit PMP10.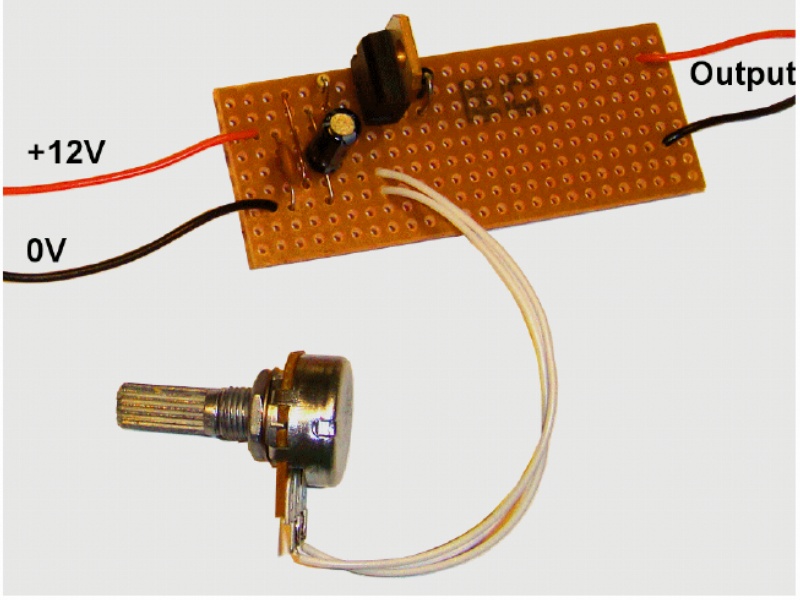 A basic motor speed controller or variable voltage source. An additional reversing switch can be added to use as a DC train controller
DCC decoder test rig, Kit PMP14.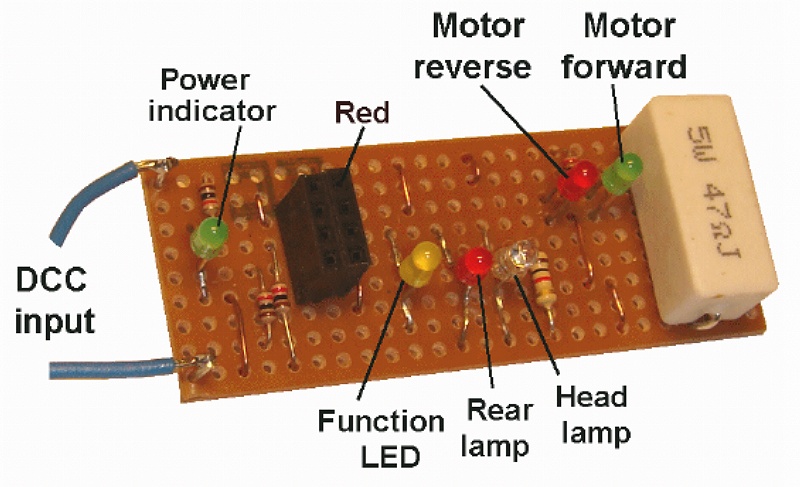 Allows set up and test DCC decoders prior to installation in a locomotive.
EzyPoints, servo driver, Kit PMK18.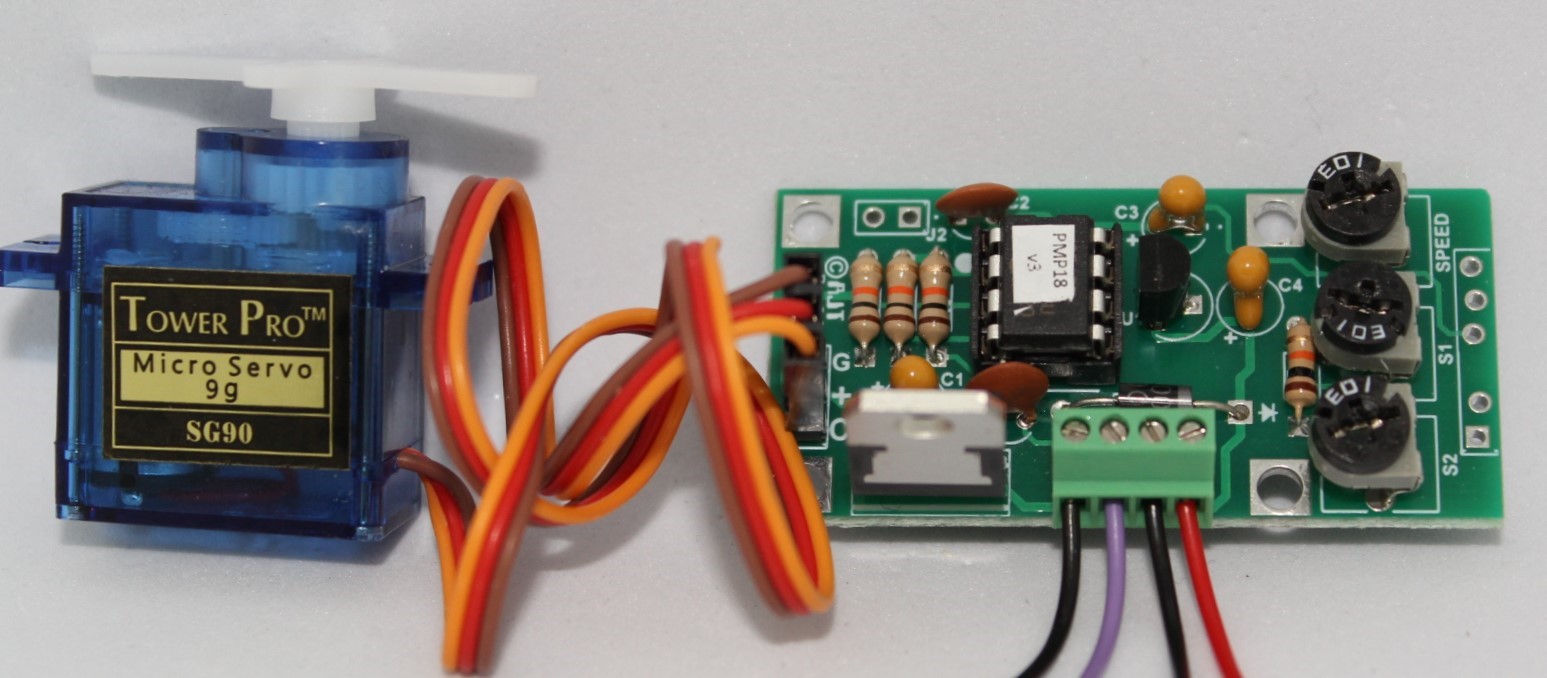 This is a driver board to enable use of cheap servo motors to drive model railway accessories such as points, signals, level crossing barriers etc. It provides individual adjustment of the end positions and operating speed.