About MERG
MERG (Model Electronic Railway Group) is an international, UK based society for people interested in the application of electronics and computing to all aspects of railway modelling.

Our aim is to enhance enjoyment of railway modelling by the development and use of electronics and computing to assist control and operation of our layouts.

To achieve this aim we publish a regular Journal with all previous issues archived in the online library. We also have an active online forum and extensive knowledgebase (wiki) including video tutorials. We also make available to members an extensive range of electronic kits ranging from the simple to the sophisticated, all developed and produced by members for members. Our area groups and special interest groups provide opportunities for face to face and Zoom meetings for social interaction and mutual assistance.
Further information on all these aspects of MERG activity is available on other sections of this page and in more detail on the linked pages. Feel free to browse and if you like what you see join us.
Joining MERG
Membership of MERG is amazingly good value, starting at just £16 per annum.
Click the sign to find out more about membership.

Or click below to find more about:

MERG Area Groups and Special Interest Groups
One of the excellent beneficial aspects of joining MERG is access to our growing number of MERG Area Groups and Special Interest Groups.

Area Groups are being started up throughout the UK and worldwide - giving members the chance to meet and share knowledge. Special Interest Groups allow members interested in the relevant topic to share their interest without geographical restriction and usually meet via Zoom.

To keep active during the Coronavirus lock down many Area Groups are also holding Zoom meetings but are mostly now resuming in person meetings as well.

What's On
17-Aug
3DSIG 19:30 Bst Cad Software Demonstration
Online Zoom Meeting
18-Aug
Aberdeen Area Group Meeting
Aberdeen Model Railway Club
19-Aug
MERG Somerset Area Group Virtual Coffee Break
Online Zoom Meeting
19-Aug
Wales NAG meeting. Discuss & review on recent meetings and activity
Online Zoom Meeting
20-Aug
Tayside Area Group meeting
The Friary, Tullideph Road, Dundee DD2 2PN
20-Aug
10:00 BST South Hants Saturday Workshop
Southampton Model Railway Society clubroom
21-Aug
Irish Area Group virtual meeting
Online Zoom Meeting
22-Aug
JAL Beginners' session
Online Zoom Meeting
27-Aug
East Scotland No meeting
None
27-Aug
MERG EA Meeting
Parkview Chapel, The Street, Botesdale, IP22 1BX
27-Aug
Bournville MRC Annual exhibition
The Austin Sports and Social Club 30 Tessall Lane, Longbridge, Birmingam B31 2SF
03-Sep
MERG Somerset Area Group Meeting
Online Zoom Meeting
Resources & Information
Below are links to various resources and information pages relating to electronics and electronic components that MERG makes freely available (subject to any copyright notices). Most of these are the responsibility of members(s), and MERG accepts no responsibility or liability for their use nor offers any warranty or validation on them.

Model Rail Electronics Book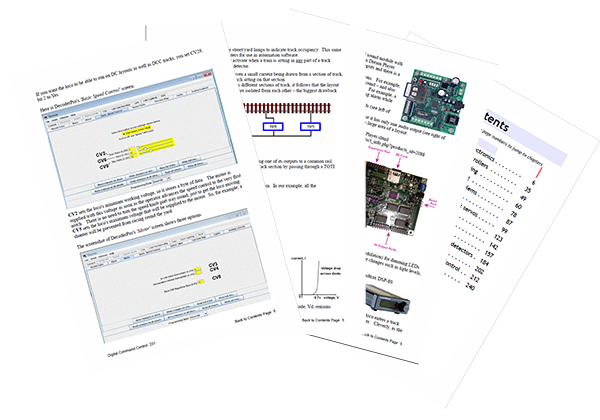 MERG is pleased to recommend and support the widely downloaded book, written by MERG member Davy Dick, entitled "Electronics for Model Railways".

This excellent publication is available for free download.
Membership








































Total membership: 3,879